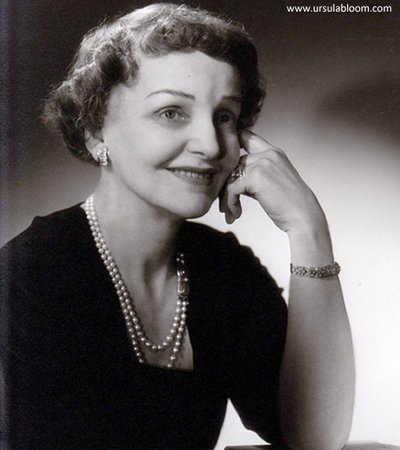 Ursula Bloom was one of the most popular bestselling authors of the twentieth century. She wrote over 560 books, a feat which earned her a place in the Guinness Book of World Records for many years, as the world's most prolific female writer. She also wrote short stories, radio and stage plays, and worked as a Fleet Street journalist.
Early years
She published her first book, Tiger, at the age of seven. It told the story of a cat who saves its family when their house catches fire. A family friend, the novelist Marie Corelli, paid to have the book privately printed. Ursula's mother sent a copy to Prince Eddie, later Edward VIII, and Duke of Windsor. Years later, while living in Frinton as a young widow, Ursula met and danced with the prince.
Ursula's first paid for contribution to the press was in 1900, when she had a letter printed in Our Home magazine. By aged eleven she was writing her own children's magazine, which she circulated among her friends.
Family life
Born in Chelmsford, Essex on 11th December 1892, to James Harvey Bloom, a Church of England clergyman, and Mary (Polly) Gardner, both from Norfolk, Ursula spent her early years living in Whitchurch, Warwickshire. Ursula's mother eventually left her husband, taking Ursula and her brother Joscelyn to live in St Albans. For two years, Ursula earned her living playing the piano in a cinema in nearby Harpenden.
In 1916, Ursula married Captain Arthur Denham-Cookes of the 24th London Regiment, in the parish church in Frinton, Essex. The following year, their son, Pip, was born. Arthur died in 1918 during the influenza epidemic.
Journalism
Ursula moved to London with the intention of becoming a journalist. Through dogged determination, she became chief crime reporter for the Sunday Dispatch and Empire News. Her biggest success came when she tracked down Ethel le Neve, Dr Crippen's lover, who had gone into hiding after his execution.
Marriage
In 1925, Ursula married her second husband, Charles Gower Robinson, a Royal Navy Commander. For some years they lived in Malta, where he was stationed. Eventually they moved to a flat in Chelsea, London.
A writer's life
Ursula was a disciplined and hard-working writer. As well as her journalism, novels, non-fiction, and plays, she was also the beauty editor for Woman's Own, and wrote the problems page for another magazine. Starting work at seven am, she aimed to write 10,000 words a day. She did all her own typing but was a self-confessed terrible speller. Her husband would read her manuscripts, correcting the spelling. He also did the cooking.
Ursula regularly appeared on national television and radio, advertised products such as Basildon Bond notepaper, and was a judge for Miss Great Britain, a nationwide Persil competition, and needlework contests, among others. She was an expert needlewoman herself, frequently exhibiting her work.
During her long career, as well as writing books under her own name, Ursula used the pen names Sheila Burns, Rachel Harvey, Lozania Prole, Mary Essex and Deborah Mann.
Ursula Bloom died, aged 91, on 29th October, 1984, in Winton Nursing Home, Nether Wallop, Hampshire.