Dinah's Husband by Ursula Bloom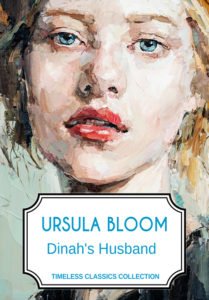 1930s England. Dinah Treeves has a difficult decision to make. Should she stay in her comfortable marriage to the kindly, older Max, or follow young Naval Officer Piers to Malta?
Praise for Ursula Bloom: 'Ursula Bloom writes in a delightful way …' Cambridge Daily News
Dinah found security and affection in her marriage to Max Hale. But when she meets Piers Grant, she experiences passionate love for the first time. Loyal to Max but drawn to Piers, Dinah is faced with a seemingly impossible choice.
As Max confronts Dinah and Piers, he suggests three possible solutions to their dilemma. These three scenarios unfold before the reader, in which we see how each decision would affect the lives in the triangle. Whichever path Dinah chooses will bring unforeseen consequences.
More praise for Ursula Bloom:
'… with every book she adds something to her reputation.' Daily Telegraph
Dinah's Husband by Ursula Bloom from Amazon UK
Dinah's Husband by Ursula Bloom from Amazon.com
Dinah's Husband by Ursula Bloom from Amazon AUS