Forty is Beginning by Ursula Bloom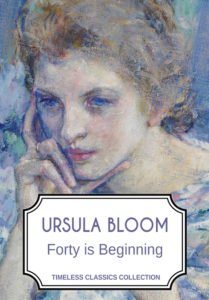 'Ursula Bloom writes in a delightful way with a deep understanding of human nature and a quick eye for the humorous things in life' Cambridge Daily News
1940s England. Schoolteacher Alice Marvin has always been a sensible woman. At forty she realises that somehow the exciting things in life have passed her by. A surprise windfall offers new possibilities. But her plans for a trip to the French Riviera are met with horror by the priggish folk of Brestonbury.
Despite their disapproval, and a deep suspicion of all things foreign, Alice sets out on the adventure of a lifetime. A chance meeting with Colonel Max Hewlitt leads to her first visit to a casino. That evening sets in motion a series of events that will change how Alice sees the world, and how it sees her, forever.
A witty, entertaining and touching novel by bestseller Ursula Bloom, writing as Mary Essex. Perfect for readers who enjoy the works of Barbara Pym, Angela Thirkell and Elizabeth Taylor.
'With each book she adds something to her reputation' Daily Telegraph
Read Forty is Beginning by Ursula Bloom now (from Amazon UK)
Read Forty is Beginning by Ursula Bloom now (from Amazon.com)
Read Forty is Beginning by Ursula Bloom now (from Amazon AUS)