Heartbreak Surgeon by Sheila Burns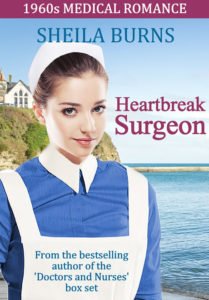 1963. Nurse Lorna Vane makes some surprising discoveries when she takes up a private nursing job in Cornwall.
When Lorna learns that Dr Michael Bland, the 'Heartbreak Surgeon', is to marry another woman, she decides to leave St Botolph's Hospital. She travels to Cornwall, to work as private nurse to a rich widow, Mrs Liskeard.
Lorna soon realises that caring for her new patient will present many challenges. Could it be that she and Mrs Liskeard's nephew, Roger, have met before? And will a surprise newspaper announcement change how Lorna feels about the Heartbreak Surgeon?
Heartbreak Surgeon by Sheila Burns from Amazon UK
Heartbreak Surgeon by Sheila Burns from Amazon.com
Heartbreak Surgeon by Sheila Burns from Amazon AUS