Loves of a Virgin Princess by Lozania Prole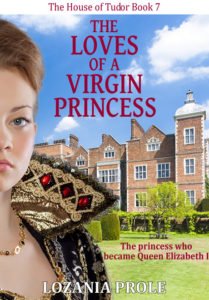 The moving and atmospheric novel about the young princess who became Queen Elizabeth I.
The spirited young Princess Elizabeth lives her life in constant fear under the terrifying reign of her half-sister, Mary Tudor. In the Tower of London, Elizabeth meets Sir Robert Dudley, her "sweet Robin", who will have such an impact on her life.
Robin's loyalty and confidence give the young princess the strength and conviction she will need for when it is her turn to become Queen.
This fictional biography paints a vivid picture of the sufferings and happiness of Queen Elizabeth's youth, and the story of the men who came into her life.
THE HOUSE OF TUDOR SERIES
BOOK 1: THE GHOST THAT HAUNTED A KING (ANNE BOLEYN)
BOOK 2: KING HENRY'S SWEETHEART (JANE SEYMOUR)
BOOK 3: MY WANTON TUDOR ROSE (CATHERINE HOWARD)
BOOK 4: HENRY'S LAST LOVE (CATHERINE PARR)
BOOK 5: THE NINE DAY QUEEN (LADY JANE GREY)
BOOK 6: CONSORT TO THE QUEEN (MARY I)
BOOK 7: THE LOVES OF A VIRGIN PRINCESS (ELIZABETH I)
Loves of a Virgin Princess by Lozania Prole from Amazon UK
Loves of a Virgin Princess by Lozania Prole from Amazon.com
Loves of a Virgin Princess by Lozania Prole from Amazon AUS