The Flying Nurse by Sheila Burns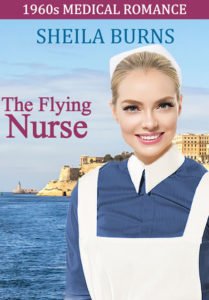 1967. Nurse Mandy Thwaites travels to Malta to care for her ill stepfather. But nursing her patient proves to be more complicated than Mandy could ever have imagined.
After passing her exams and qualifying as a nurse, Mandy is looking forward to a short rest. Then her bossy mother insists that Mandy fly to Malta and look after her sick husband, Cam Sykes.
At the airport, Mandy meets dark and handsome Luis Vella. She doesn't realise then that this Maltese man will play a big part in her life on the island.
Cam is dangerously ill, but seems more concerned about a mysterious business deal. As Mandy tries to nurse him back to health, she discovers secrets and romance on the enchanting island of Malta.
The Flying Nurse by Sheila Burns from Amazon UK
The Flying Nurse by Sheila Burns from Amazon.com
The Flying Nurse by Sheila Burns from Amazon AUS