The Ghost of Fiddler's Hill by Sheila Burns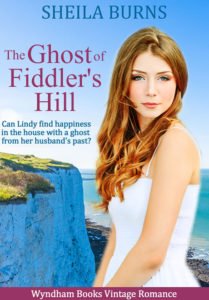 Can Lindy find happiness in the house with a ghost from her husband's past?
1968. After a whirlwind romance, Lindy marries the rich and handsome Sir Simon Leeson. But her happiness is short-lived once she arrives as mistress of his stately home.
The ghost of Simon's beautiful former wife casts a shadow over his and Lindy's marriage, as the eyes in her portrait look down on the new bride. What secrets and demons is Simon hiding? And who is the woman that Lindy hears weeping throughout the old house?
The Ghost on Fiddler's Hill by Sheila Burns from Amazon UK
The Ghost on Fiddler's Hill by Sheila Burns from Amazon.com
The Ghost on Fiddler's Hill by Sheila Burns from Amazon AUS