The Romance of Jenny WREN by Sheila Burns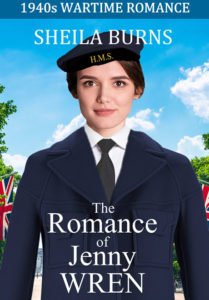 1944. Young Wren Jenny is in love with dashing Naval Officer Robin Stephens. But can she trust him to take care of her heart and happiness?
When Jenny meets Robin on a packed train in wartime London she is swept off her feet by his good looks and easy charm.
Jenny is heartbroken when an illness means she must leave her beloved Wrens. Dr John MacTavish is kind and attentive. But is his interest in Jenny purely professional?
Robin's mother offers Jenny a way to continue serving her country. But will Robin hinder Jenny's duty to her war work?
Jenny's sister falls for a married man and wants to break off her engagement to a war hero. Can Jenny make Hermione realise that she is making a mistake? And when it comes to matters of the heart, is Jenny making the biggest mistake of her own?
A moving 1940s wartime romance from the bestselling author of The Village Nurse.
The Romance of Jenny WREN by Sheila Burns from Amazon UK
The Romance of Jenny WREN by Sheila Burns from Amazon.com
The Romance of Jenny WREN by Sheila Burns from Amazon AUS