The Ghost that Haunted a King by Lozania Prole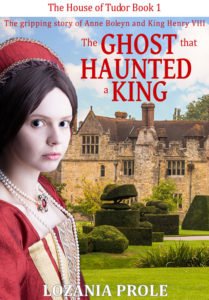 The gripping story of Anne Boleyn and King Henry VIII.
The first book in the House of Tudor series about the passions and intrigues in the Royal Court in Tudor England.
When Catherine of Aragon fails to provide Henry with the male heir he craves, the king turns his attentions to young Anne Boleyn. For Anne, there is the promise of a king's love, and a life of wealth and comfort.
But hanging over their union is the ghost that has plagued King Henry and his family. Could this be the reason for the king's ill health and his numerous stillborn offspring?
Anne knows that her future depends on providing her husband with the one thing he desires above all else. But with public opinion against her, and enemies within the court, time is soon running out for the new queen.
THE HOUSE OF TUDOR SERIES
BOOK 1: THE GHOST THAT HAUNTED A KING (ANNE BOLEYN)
BOOK 2: KING HENRY'S SWEETHEART (JANE SEYMOUR)
BOOK 3: MY WANTON TUDOR ROSE (CATHERINE HOWARD)
BOOK 4: HENRY'S LAST LOVE (CATHERINE PARR)
BOOK 5: THE NINE DAY QUEEN (LADY JANE GREY)
BOOK 6: CONSORT TO THE QUEEN (MARY I)
BOOK 7: THE LOVES OF A VIRGIN PRINCESS (ELIZABETH I)
The Ghost that Haunted a King by Lozania Prole from Amazon UK
The Ghost that Haunted a King by Lozania Prole from Amazon.com
The Ghost that Haunted a King by Lozania Prole from Amazon AUS