The Haunted Headsman by Lozania Prole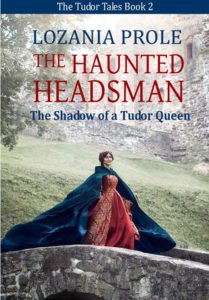 London. 1558. The captivating novel of young lives lived in the shadow of Anne Boleyn.
Moll is a city bawd whose life takes an unpredictable turn, bringing her the promise of riches and status. But her lies of a connection to Hever Castle and the Boleyn name threaten her future.
Jack Oldham is a headsman, haunted by the death of Anne Boleyn since he was a child. Meanwhile, Sir Hugh Chavasse must present a wife and heir if he is to inherit his ailing father's fortune.
Fate brings these three together, in a captivating tale of passion, greed and murder during the dawn of the Elizabethan age.
This atmospheric story vividly brings to life the harsh and uncompromising world of sixteenth century England.
THE TUDOR TALES SERIES:
BOOK 1: THE QUEEN'S MIDWIFE
BOOK 2: THE HAUNTED HEADSMAN: THE SHADOW OF A TUDOR QUEEN
BOOK 3: THE TUDOR BOY
The Haunted Headsman by Lozania Prole from Amazon UK
The Haunted Headsman by Lozania Prole from Amazon.com
The Haunted Headsman by Lozania Prole from Amazon AUS