The Little Victoria by Lozania Prole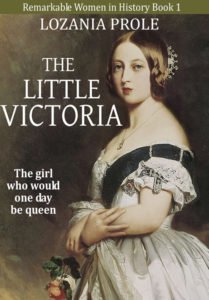 This captivating novel is based on the early life of Queen Victoria.
It follows little "Vikki" from childhood as she blossoms into a formidable young woman who becomes queen, and falls in love with Albert, the cousin who will be her prince. The story begins with the intriguing circumstances surrounding the marriage of Victoria's parents, and her own birth.
A fascinating novelisation of a great woman's life, The Little Victoria is set in Kensington Palace, Buckingham Palace, and other royal residences. It lifts the curtain on the political intrigue, royal gossip, family feuds and romances that played a part in the destiny of the little girl who would one day be queen.
Perfect for fans of the British Royal Family, historical fiction and TV historical dramas such as Victoria, War and Peace and Poldark.
REMARKABLE WOMEN IN HISTORY
BOOK 1: THE LITTLE VICTORIA (QUEEN VICTORIA)
BOOK 2: OUR DEAREST EMMA (EMMA, LADY HAMILTON)
BOOK 3: QUEEN GUILLOTINE (MARIE-ANTOINETTE)
The Little Victoria by Lozania Prole from Amazon UK
The Little Victoria by Lozania Prole from Amazon.com
The Little Victoria by Lozania Prole from Amazon AUS