The Tudor Boy by Lozania Prole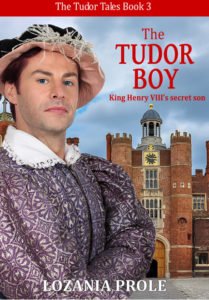 A gripping novel about Jonne, the secret son of King Henry VIII.
Jonne is the son of a young May Queen seduced by a mysterious, tall, red-haired gentleman. Does Jonne have royal blood?
A chance encounter introduces Jonne to a noble family. Through them he meets the beguiling Lady Catherine Howard. He is deeply attracted to the young woman.
But Catherine marries King Henry, and Jonne becomes a jester at the Tudor Court. He soon realises that his beloved's life is in danger if she cannot provide the monarch with a legitimate prince.
Could the answer be for the secret son of King Henry to give the King's wife the Tudor heir she desperately needs?
The third book in the Tudor Tales series about fictional characters and real life historical figures in the Royal Court in Tudor England.
THE TUDOR TALES SERIES
BOOK 1: THE QUEEN'S MIDWIFE
BOOK 2: THE HAUNTED HEADSMAN: THE SHADOW OF A TUDOR QUEEN
BOOK 3: THE TUDOR BOY
The Tudor Boy by Lozania Prole from Amazon UK
The Tudor Boy by Lozania Prole from Amazon.com
The Tudor Boy by Lozania Prole from Amazon AUS