The Nine Day Queen by Lozania Prole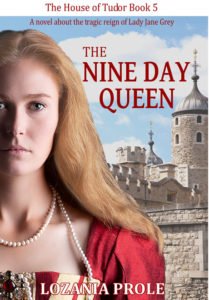 An innocent young girl finds herself the unwitting pawn in a power play with deadly consequences.
The fifth novel in the gripping series of passion and intrigue in the Royal Court of Tudor England.
Lady Jane Grey has never sought to be Queen of England. But those in whom she has put her trust have other ideas. Their plans for the dead King's beloved cousin will bring them close to absolute power.
Princess Mary will not easily relinquish the crown that should be hers. She draws on her supporters to establish her rightful reign and restore England to the Catholic faith.
These are two very different women, each with their own determination and courage. Only one can remain Queen. Before this, comes betrayal, tragedy and death.
THE HOUSE OF TUDOR SERIES:
BOOK 1: THE GHOST THAT HAUNTED A KING (ANNE BOLEYN)
BOOK 2: KING HENRY'S SWEETHEART (JANE SEYMOUR)
BOOK 3: MY WANTON TUDOR ROSE (CATHERINE HOWARD)
BOOK 4: HENRY'S LAST LOVE (CATHERINE PARR)
BOOK 5: THE NINE DAY QUEEN (LADY JANE GREY)
BOOK 6: CONSORT TO THE QUEEN (MARY I)
BOOK 7: THE LOVES OF A VIRGIN PRINCESS (ELIZABETH I)
The Nine Day Queen by Lozania Prole from Amazon UK
The Nine Day Queen by Lozania Prole from Amazon.com
The Nine Day Queen by Lozania Prole from Amazon AUS