The Passionate Heart by Ursula Bloom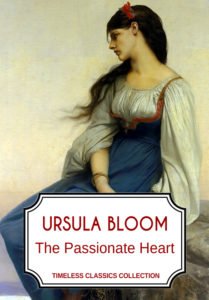 Late-Victorian England. For Mary, marriage offers a welcome escape from her suffocating home life. But the young bride discovers a stark difference between her romantic dreams and married life. Another sharply-observed, bittersweet novel from 20th century bestseller Ursula Bloom.
Praise for Ursula Bloom: '… with every book she adds something to her reputation.' Daily Telegraph
George Carew seems ideal husband material to Mary. But the reality does not live up to the ideal. A chance meeting with naval officer Peter Lloyd shows Mary how different her life could be. Can she break free from convention and follow her heart's desire, or must she settle for what polite society expects of her?
The Passionate Heart by Ursula Bloom from Amazon UK
The Passionate Heart by Ursula Bloom from Amazon.com
The Passionate Heart by Ursula Bloom from Amazon AUS