Wonder Cruise by Ursula Bloom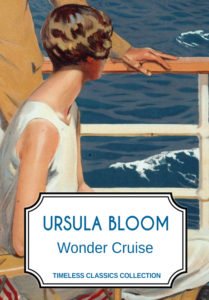 London, 1934. Ann Clements is stuck in a boring job and thinks nothing exciting will ever happen to her. Then a sudden stroke of luck changes everything. Another sharply-observed, enjoyable novel from 20th century bestseller Ursula Bloom.
'… with every book she adds something to her reputation.' Daily Telegraph
A Mediterranean cruise opens Ann's eyes to people and experiences far removed from her sheltered existence. But as she blossoms, the biggest question is, can there be any going back?
PRAISE FOR WONDER CRUISE:
'A delightfully charming novel, which I adored!' Rather Too Fond of Books
'Ursula Bloom writes in a delightful way, with a deep understanding of human nature and a quick eye for the humorous things in life. Wonder Cruise … is one of the most entertaining novels we have read for a long time.' Cambridge Daily News
'Vividly entrancing.' Scotsman
Wonder Cruise by Ursula Bloom from Amazon UK
Wonder Cruise by Ursula Bloom from Amazon.com
Wonder Cruise by Ursula Bloom from Amazon AUS