Nurse on Wings by Sheila Burns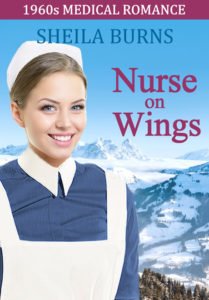 1969. Young Nurse Helen Hughes decides to forget a broken love affair by becoming nurse companion to a wealthy author. But life and love only get more complicated.
When handsome doctor Tony Dulayley break's Helen's heart, she leaves the hospital to work for Miss Henrietta Bryan. Then an overseas trip ends in tragedy when their plane crashes in the mountains.
Helen finds comfort in the strong arms of fellow survivor Harvey Priestley. They form an enduring bond as they wait to discover if they will be rescued in time. But is Helen confusing gratitude with love?
The crash leaves Helen with another surprising, and life-changing legacy. And with the appearance of two very different doctors, Helen is unsure of where, and with whom, her future really lies.
Nurse on Wings by Sheila Burns from Amazon UK
Nurse on Wings by Sheila Burns from Amazon.com
Nurse on Wings by Sheila Burns from Amazon AUS