The Hunter's Moon by Ursula Bloom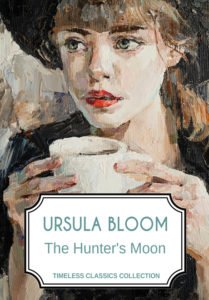 London, 1949. Diana thought she had found love with ex-RAF pilot John. But his reaction to some unexpected news shocks her into a new understanding. That one moment will shape her future.
'With each book she adds something to her reputation.' Daily Telegraph
Diana feels trapped by her circumstances when help comes from a surprising source. But John refuses to accept Diana's new path in life. A trip to the south of France presents captivating people and experiences. Will these help Diana to realise how true fulfillment can be found?
A perceptive and touching novel, perfect for readers who enjoy the works of Barbara Pym, Angela Thirkell and Elizabeth Taylor.
'Ursula Bloom writes in a delightful way with a deep understanding of human nature and a quick eye for the humorous things in life.' Cambridge Daily News
The Hunter's Moon by Ursula Bloom from Amazon UK
The Hunter's Moon by Ursula Bloom from Amazon.com
The Hunter's Moon by Ursula Bloom from Amazon AUS